Beyond all doubts, a fishing hook appears to be the most important tool for an angler. Its usefulness is so unique that it is hard for you to replace them with another tool. Nevertheless, the kind of hooks you get can be a great determinant of the kind and size of your catch. As a result, these recommended hooks and buying guide provide the best fishing hooks – value for money – you may need to the catch any fish of your choice.
The best fishing hooks will refer to an affordable, high-quality, yet efficient one. In as much as the hook was a loyal servant to you as an angler, it is a great collection.
1. Bright Starl 60 PCs Offset Worm Hook
Bright Starl 60 PCs Offset Worm Hook comes as a fishing package. The items in the package are;
10 PCs of #1 Fish Hooks
10 PCs of #1/0 Fish Hooks
10 PCs of #2/0 Fish Hooks
10 PCs of #3/0 Fish Hooks
10 PCs #4/0 Fish Hooks
10 PCs #5/0 Fish Hooks
They are all in a plastic box that can be used again. These hooks are designed from carbon steel. They are resistant to corrosion and are of high strength. As an angler of saltwater and freshwater, this type of hook is a top choice.
In addition to being the best fishing hook for saltwater, this hook maintains your bait or lure in an attractive position for your game. However, it does not allow the fish to escape once it attempts to feed on the bait. It is designed to be a sharp barbed forged item with a closed eye and wide gap as these features will help to hunt bigger fishes.
The tip of the hook does not go blunt easily such that it is ideal to hang baits. The black color helps to disguise while in the water. Also, it does not corrode easily because it is electroplated. Its level of tensile strength is encouraging.
Ensure you keep this item away from children and be watchful while attaching baits to it. Also, you should opt for the perfect size that will prevent hook loss.
Pros
Affordable and simple to use
Offers great value for money
Available in multiple sizes
Strong, durable, and resistant to corrosion
Cons
Could break easily if one uses the wrong size
Takeaway
Bright Starl 60 PCs Offset Worm Hook is always a top choice for beginners who are starting to hunt. It is one of the best hooks for bass fishing. 
2. Drasry Fishing Hooks Set High Carbon Steel Hook
Drasry Fishing Hooks Set High Carbon Steel Hook is a strong contender for the best hook for saltwater fishing. Being a product of high carbon steel, it is a strong material with optimum strength and one not subjected to corrosion easily. This hook is available in ten varying sizes such that you can have a varying application that helps to fish anytime you want to.
It does not matter if you are fishing in saltwater or freshwater, you would fancy your next adventure with this hook because its special barb hooks lower the mortality rate. There is no doubt as to the number of types of fish as an angler.
These different sizes come in a plastic box that can be easily transported. Also, they are arranged in different compartments in the plastic such that there will be no mix-up of these sizes and you can easily transport them. Talking about quality and reliability, the hooks are designed to outlast many fishing seasons such that hunters are always equipped to fish.
Pros
Affordable yet available in varying sizes
Durable and resistant to corrosion
Easy to store and transport
Special hook design to reduce the fish mortality rate
Lightweight and easy to use
Cons
Eyelets may not be accurately designed
Takeaway
Drasry Fishing Hooks Set High Carbon Steel Hook is a top recommendation of the best catfish hooks or other types of fish you may desire to catch.
3. Beoccudo Freshwater Saltwater Large Size Fishing Hooks Set
The most encouraging feature of the Beoccudo Freshwater Saltwater Large Size Fishing Hooks Set is that it does not matter if your spot is freshwater or blackwater, you are good to go with this type of hook. They are fifteen varieties of hooks there for you to pick to your satisfaction. Hence, you can target panfish, smallmouth bass, trout, perch, northern pike, ocean sunfish, walleye, and all types of bass.
The different sizes of hook range from size 6 to size 22. They are all well arranged in a reusable plastic box. The arrangement makes it easy to store and transport. Also, it helps to easily access any desired size. It is a perfect fishing kit if you love to hunt as a family as there is a perfect hook size for everyone.
The hook has a flat body that helps to maintain durability and strength. It is a premium construction from carbon steel such that you cannot doubt its strength. Its eyelets are closed and they allow your lines to easily go through them. The tip of the hook allows better penetration of the fish and prevents any loss of fish.
The finish of the hook is nice and smooth. You can use all kinds of artificial baits with them – baits like corns, worms, or live baits. This type of hook is a great collection you would be pleased to have as an angler.
Pros
Easy penetration of line for a good hunt
Sharp hook tip for no fish loss
A great collection for family fishing
Works perfectly with artificial baits
Great sturdiness and value for money
Cons
Some hooks may have defected
Takeaway
Beoccudo Freshwater Saltwater Large Size Fishing Hooks Set is the best bass hook if you are fishing as a family.
4. Sougayilang Fishing Hooks High Carbon Steel Worm
Sougayilang Fishing Hooks High Carbon Steel Worm is one of the best bass hooks you would get out there. It is designed from high-strength carbon making it a great choice for anglers. The product contains 50 pieces of items in a plastic box that can be used again. The box makes it easily fit into your pocket or backpack for easy transportation to your spot.
The point of the hook is sharpened such that it can easily penetrate the fish and keep the firm to the hook when it attempts to run. You need this type of fish hook to catch big fish.
Pros
Great assortment and quality
Good sturdiness with thick hooks
Its value for money is encouraging
Contains several pieces of hooks
Cons
It may not be suitable for advanced fish hunters
Takeaway
Sougayilang Fishing Hooks High Carbon Steel Worm has 50 pieces of hooks at an affordable cost. There are few products with this kind of advantage.
5. Octopus Hook Fishing Beak Circle Hooks
If you want a hook that is easy to use, Octopus Hook Fishing Beak Circle Hook is your go-to option. It does not matter if you want to use it on freshwater or saltwater, the hook has a great penetrating feature and good holding capacity.  The hook has a reversed point at the hook such that you can easily improve the hookset.
You can use the hook for sea bass, reef fish, snapper, or other species. You can use crab, pilchards, sardines, mackerel, or squid as your bait. Its eyelet is up-turned making it an ideal choice to attach the bait to it.
The hooks are strong and superior to other brands because of how it is created. It is designed using high carbon steel of optimum grade. This helps to prevent any blemish that may want to cause weakness to the hook. Also, it is well plated such that they do not corrode easily after long use.
The hooks are available in different colors and sizes. It does not matter your level of experience as an angler, you can use these hooks to catch any choice of predator fish – all thanks to its reversed point.
Pros
Perfect tools for angling
Available in many sizes
Sharp, strong, and durable
Affordable and portable
The reversed point that makes it hard for fish to escape
Cons
Takeaway
Octopus Hook Fishing Beak Circle Hooks is a combination of size and efficiency. You would love these collectibles as they can be the best catfishing hooks.
6. Plusinno Fishing Hooks
Plusinno Fishing Hook is high carbon steel that comes in 100 pieces of hook. Altogether, there are five different sizes. Each size is available in twenty pieces. They are categorized into compartments for storage and transportation in a plastic box that can be used again.
Getting this product is purchasing the best hook for saltwater. The hooks are designed from high carbon steel to provide anglers good fishing experience. It is resistant to corrosion due to its high strength either during saltwater or freshwater fishing.
The hooks are sharp as they penetrate deeply into the fish. The hook has a special barb that can move in the fish's mouth, rest at the lower part of the fish's mouth and slow down the death rate of the fish. Its eyelets are polished such that its smoothness makes the fishing line remain intact.
Their closed eye goes a long way when you insert your line into the hook. It supports any type of bait you may want to apply, whether it is soft fishing baits, smallmouth, largemouth bass, striper, musky, or pike.
Do you know that this product will make a great gift idea? Well, since the hooks are already packaged in a plastic box, you can easily move around with it to your desired location anytime you think there is a need. You can gift people on their special days like birthdays, Christmas, valentine's day, Father's Day, or Thanksgiving Day.
Pros
A great strength of sturdiness
Good value for money
Good quality and easy to use
Durability is second to one
Convenient to transport and store
Cons
Takeaway
Plusinno Fishing Hook is high carbon steel that can be a perfect gift option to encourage someone just starting or for an advanced angler.
7. Silanon Octopus Fishing Hooks
Silanon Octopus Fishing Hook is a top choice of a hook with 120 pieces. It is designed from high carbon steel such that its durability is without question. In short, its targeted species include muskellunge, bass, northern pike, and salmon. It is always in black such that the hook is not visible for the fish when it has been immersed in the water.
Its jig hook is specially designed to hold fish tight when they are caught and to prevent them from slipping away. Its needlepoint is offset making it easy to attach the line to it. It does not matter whether your spot has freshwater or saltwater, you should go-ahead to use these hooks for your satisfaction.
The 120 pieces of hooks include various sizes. You can employ the use of the smaller sizes when on freshwater. They can accommodate lures like salmon eggs or tadpoles. The bigger-sized hooks are great for angling in saltwater as you can use the Octopus hooks with cut or live bait to catch bigger fishes.
The strength of these hooks makes you want to get them for people as special gifts on their special occasions. Great penetration, encouraging durability, and long-lasting strength; it can only be Silanon Octopus Fishing Hook, the top choice of hook.
Pros
Sharp hook points for easy penetration
Locks bait perfectly
Lightweight and easy to hold for a long period
Available in various sizes
An ideal choice for saltwater and freshwater
Cons
The hooks are sharp and should be used with caution
Takeaway
Silanon Octopus Fishing Hook is good for both a beginner and one who has been angling for a while. At the end of the day, you want both parties to record high efficiency while angling.
8. Bass Fishing Worm Hooks Set
Bass Fishing Worm Hooks Set is designed from carbon steel. Unlike your random hooks, this type of hook is thicker. They are so strong that they hardly bend whenever you have to use them to catch a fish.
These hooks are strong, sharp, and quite durable. They have a special barb that locks the fish when they are caught such that the fish can hardly escape. However, it is important to say that the hooks do not kill the fish but they only catch them.
It has a wide gap that supports consistent hookups and provides strong tensile strength. No matter how long, it is durable to use and hence a perfect choice for saltwater and freshwater anglers. Fishing worm hooks can be in a plastic container such that they are portable.
The package has 140 pieces but in 7 different sizes. They are all in a portable plastic box and arranged in different compartments. The weight of the package is 0.2 kg.
Pros
Good value for money
Strong, durable, and reliable
Easy to transport
Available in different sizes
Cons
Hard to clean as the hook is sharp
Takeaway
Bass Fishing Worm Hooks Set has a great monetary value but you may need to attach the bait for a start.
9. SHUNWEI 25 PCs Jig Weighted Swimbait Hook
SHUNWEI 25 PCs Jig Weighted Swimbait Hook is one of the best hooks for bass fishing. From the name, it is obvious that there are twenty-five pieces of hooks in it. Altogether, there are 5 sizes with varying weights for each size.
The swimbait hook is designed black such that the hooks are very strong and will not bend or break while using them. The sharp needle implies that there will be easy penetration and smooth target hanging. Hence, the target fish has little or no chance to escape from the hook.
The hooks allow easy fixing of the swimbait to its spring twist lock. As a result, the baits are secured on the hook as they prevent the need to constantly adjust the hook. The weight of this hook is at its belly such that the baits can be on the hook for a longer period while in use. The function of the weight is that it sinks the hook into the water body where target fish can access it.
These types of hooks move freely in the water such that they are not stuck in grass, weeds, or rocks at the bottom of the grass. If you are angling in areas full of grass, these hooks are the perfect fishing tools for you. Another amazing feature of the hook is that it does not matter how long it stays in the water, it is designed from non-corrosive materials.
The performance is excellent either in saltwater or freshwater. All you have to do is to pick the perfect weight and size based on the demand of the water – freshwater or saltwater. You could also give anyone that you know loves angling on their special day.
It comes in a fishing tackle box. The box prevents the user from causing hurt to their clothes or hand while trying to use the hooks.
Pros
Available in various weights and sizes
Great value for their price
Strong, durable, and has anti-corrosion quality
Lightweight and easy to use
Cons
The thickness of the hooks could make the points short
Takeaway
SHUNWEI 25 PCs Jig Weighted Swimbait Hook is an ideal choice of fishing hook that maintains a high level of preservation. Its tackle box is all you need.
10. JSHANMEI Circle Hook for Saltwater
if you want to get an appropriate hook to catch catfish or want to hunt fish in saltwater, then you should opt for JSHANMEI Circle Hook for Saltwater. The color is black such that it is a perfect disguise to fish anytime it is in the water. It is designed to be sharp with an adorable hook point that goes into the fish's mouth and reduces their rate of death.
Being made from high carbon, the hooks are strong and do not bend easily. By implication, it does not matter if the fish tries to escape or otherwise, the hook will not allow it to be able to do that. Since it would always be immersed in water, the brand has made the hook to be resistant to corrosion. This feature is in addition to its endurance and nice strength.
The hooks have circle eyes. Its shafts are perfectly curved into the right shapes and bend such that hooking is easily done. Its points are sharp and it penetrates deeply into both big and small fishes.
Although it is more appropriate for saltwater purposes, people who fish in freshwater have also opted for it as a great choice due to its efficiency. The twenty-five pieces are inside a plastic box and you would want to transport or store your hooks without much ado.
Pros
Great sturdiness and durability
Good value for money
Quality is not questionable
Perfect for both salt water and fresh water
Cons
Steel could become fragile over time
Takeaway
JSHANMEI Circle Hook for Saltwater may appear like it is an appropriate choice for saltwater but people have also attested to its efficiency in freshwater.
11. Goture Stainless Steel Fishing Hook
Goture Stainless Steel Fishing Hook is designed from stainless steel. Being made from stainless steel, it is resistant to corrosion and is made of high strength. Being a sharp tool, it will go into the fish's body and give them no room for escape. Nevertheless, the fishes are kept alive.
The design of the barb is such that it can accommodate both big and small fish. You can easily pick your fish from the hook without any damage to your hand. The package comprises ten hooks which makes them perfect for bass, trout, pike, steelhead, and pike. You can use the hooks on freshwater or saltwater.
Due to its lightweight, you can easily transport the hook around or can use it to hunt.
Pros
Lightweight and portable
Perfect for saltwater and freshwater fishing
Different sizes and types of hook
Perfect for different types of fish
Cons
You may have to sharpen hooks to use
Takeaway
Goture Stainless Steel Fishing Hook contains several numbers of pieces that one can use to hunt different target species.
12. DERKERL Circle Fishing Hook
DERKERL Circle Fishing Hook is a top material designed from stainless steel. The hook is electroplated such that it is sharp yet of high strength and resistant to corrosion. This hook is unique in that it does not kill the fish but travels to a part of their mouth. Hence, you can easily remove your fish after the catch.
Whether you are a hunter on freshwater or saltwater, you can target all kinds of fish like Tuna, Sailfish, Marlin, Swordfish, Sharks, Halibut, Wahoo, Striped Bass, Walleye, Bonito, Skipjack, and others. The hook is polished but the hook still maintains the same level of sharpness.
It is properly bent into the right round of smooth circle. There is no offset as the point, bend, and shank are on the same plane. Hence, it is the exact match for a retrieved or trolled lure. The package contains 60 PCs with 6 varying sizes all in a plastic box.
The plastic box makes it easy to transport the different pieces of hook. The weight of the package is 0.17 kilograms.
Pros
Resistant to corrosion
High strength as it is easy to remove the fish
Perfect for saltwater and freshwater
Portable due to its plastic box and lightweight
Cons
Price may be expensive for a hook
Takeaway
DERKERL Circle Fishing Hook may be an expensive one to get but you would love it for its efficiency.
Based on the type of water, there may be two different types of fish hooks. We have saltwater hooks and freshwater hooks. However, all hooks have one thing in common – their anatomy. They all have the same basic parts and it is important to examine that.
The Point
The point refers to the sharpest part of the fish's hook. The point helps to penetrate the fish such that they have no way of escaping after they are caught. It is better to opt for a hook that settles at the corner of the fish's mouth to reduce the rate at which the fish may die.
The Barb
The barb begins from the point. Nevertheless, it projects from the point and extends in an opposite direction towards the point. The barb makes it easy to unhook the fish from the point after you have brought the entire hook out of the water.
The Eye
The eye is the connecting dot between the line and its hook or even the bait (It is important to know that some people refer to bait as a lure).
The Bend
Behind the cook, there is a curve which is referred to as the bend.
The Shank
The shank links the eyelet to the bend.
The Gap
The gap refers to the distance between the shank and the point of the hook.
If you are a beginner and you are just starting to fish, it is always advised that you used a J-shaped hook. As a young angler. Your hook may be barbless but as time passes, you may have to go for something bigger and more developed.
Generally, there are more than twenty types of hooks for fishing. Nevertheless, some major hook types are common. This article explains the types of hooks for angling and describes them. Follow closely.
Bait Hook
Beyond any argument, bait hook is one of the commonest types of fishing hooks. You would agree that bait could come in different lengths and sizes. Hence, bait hooks come in several styles.
A baited hook has an additional barb towards its shank and it tends towards the bend area. The advantage these extra barbs confer is that it helps to ensure the bait are maintained on the hook. It does not matter if your choice of a lure is a squirming worm, the hook was designed to accommodate such.
Treble Hook
Treble in itself means three and it is the same for treble hook too. A treble hook has three major points and bends. These fish hook types give a great coverage level to different artificial lures one may want to use. They are perfect for use for baits like spinners, crankbaits, trolling for trout, salmon, musky, etc.
The dynamism of this hook type has made it an effective choice to have as many fish as possible per catch. The fishes are happy and carried away that there is a lot for them to eat until one or two hooks entrap them and get stuck in their mouth. It could also be two hooks in a fish's mouth.
It is important to be sure about the fishing regulations in your environment to know if you are permitted to use treble hooks on the water bodies of that environment.
Circle Hook
You cannot expect a circle hook to have another shape. Yes, you guessed right – it is circular at its tip. Based on how it is designed and shaped, the point of the hook is towards the exposed area of the fish, which is a corner of the fish's mouth.
You do not need to get a hook set as most time, the fish are always hooked on the tool. In addition, it is hard for the fish to completely swallow this type of fish hook. Hence, you can be rest assured that the hook slows down the mortality rate of a fish.
Octopus Hook
Octopus hook is another common type of fishing hook. Many anglers prefer it because of how it looks and they believe it helps their efficiency. It has a short shank while the lower section has a wider gap, unlike other hooks. This gap of width is not the same as the other types.
Also, the eye points are not in the same direction as the hook point such that you can tie your egg loop knots to them. in turn, this will help to hold bait, yarn, etc. You can also use them with several species of fish – more appropriate for fishes that have a smaller mouth like Steelhead, Salmon, and Trout. It may not be the best recommendation for a fish with a big mouth like Bass.
Siwash Hook
Siwash Hooks are adorable fish hook types that can be an effective alternative to treble hooks in that it supports the use of several fishing baits. The replacement hooks are compulsory if you hunt on some particular water body that may not support the use of a single hook (you should always know the regulations of your fishing environment).
A major advantage of this type of fishhook is that there is no snag in heavier foliage water because your focus will be a hook unlike the three hooks of treble. Also, this will reduce the possible damage it may cause to the fish since you only have to remove a hook from the fish's mouth. Much more than the fish, there is a lower chance of you hurting yourself or getting caught while you are trying to use the hook.
Worm Hook
Worm hooks have the largest variety among hook types. They can be weighted, extra-wide gap, wide gap, or even have different eyes. They are good options to hunt fish that may have a large mouth like bass.
Generally, they have a wide gap which gives them clearance between the hook point and eye. As a result, it can contain large plastic worms, senkos, tubes, or other creatures.
Jig Hook
A jig hook is used to make heavy jighead hooks. There are jig molds that you can use to increase the weight of your jig hook. The molds come in different weights and are measured in ounces – they could be 0.25 Oz, 0.5 Oz, 0.75 Oz, etc. The jig hook plays an important role to lure the fish to your hook.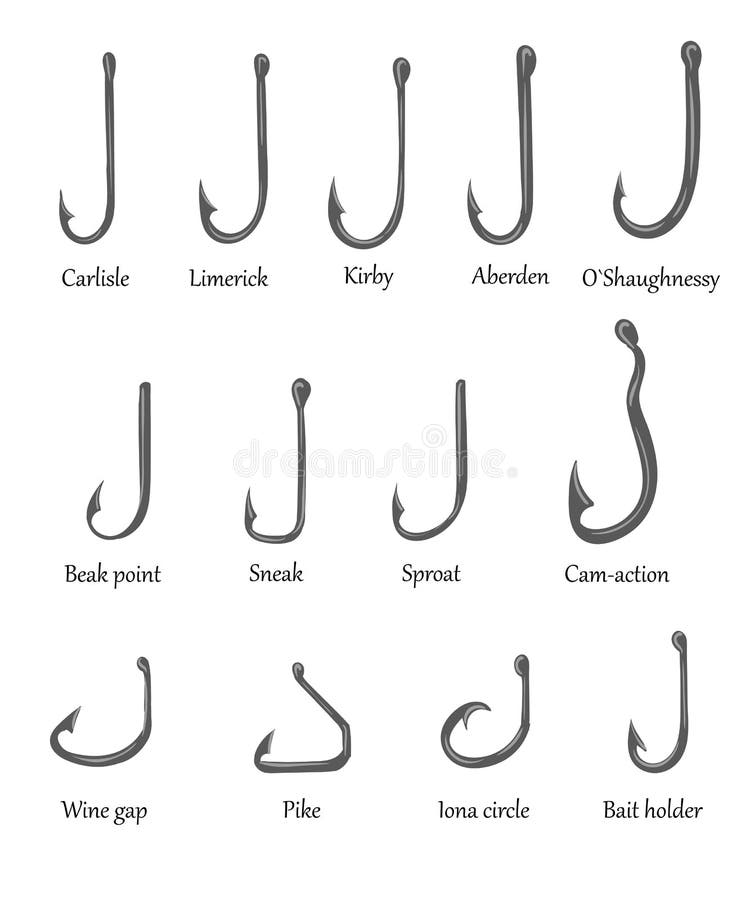 In addition to these hooks, other common types of hooks are narrow bait, weedless hook, Aberdeen hook, Keel Fly Hook, Sickle Hook, Umbrella Jighead, Shaky Worm Jighead, etc. You may need to see their shapes to know what to expect.
As an angler, you would understand that the hook size is an important factor that would determine how productive your adventure would be. The best size helps your catch as it reflects the connection between you and the catch. This section focuses on how you can choose the appropriate hook sizes for bass, or even smaller fishes.
How do I know the size of a fishing hook?
Knowing the size of your fish hook could look like a basic consideration but it has a far-reaching implication. It always comes down to knowing the distance between the gap of the shank and the hook. If the hook belongs to the large size category, the gap would be a gap.
However, for many hook sizes, they are always already numbered. You can always use this to know the size of your hook. Still, you need to know the appropriate size you should pick before using them. Follow closely to learn more.
Sometimes, you have to ask the right questions to know a perfect size. Some of these questions are;
What type of fishing are you engaged in?
The type of fish you want to hunt goes a long way with the size of fish you should use. For example, using hook sizes for bass for small fish may not be an effective approach. You may not be able to catch any or even if you do, they may die because of the size of the hook.
Where are you fishing?
The location of your fishing site is another major determiner. You need to know if your site is full of debris, or clear. Also, you need to consider the speed of the current when choosing your hook size. If you opt for a small size in all of these conditions, it will be unnoticeable by the fish because they are immersed in leaves, sticks, or heavy current.
Can you help me with the right hook size for different fishing conditions?
These points are the different fishing conditions and their perfect hook size.
If you are fly fishing, you have to consider your lure to choose the right size. Check if the lures extend or seat properly on your hook.
Oftentimes, the size of hook for bass fishing is always between 1, 1/0, and 2/0. The smaller size is ideal for little worms and the larger-sized hooks are appropriate for lizards or worms. These sizes of bait will grab the fish while they are feeding on the bait. Bass hooks' sizes are always bigger than the normal tools.
Deep-sea fishing means a big catch and of course, you would need big hooks. You may need a 9/0 to catch a tuna and other types of fish in the sea.
It is suggested that you go to your next spot with multiple hooks of varying sizes. Hence, you can always try the new tool if it seems like the fish are not biting whichever you are using at the moment. You can always change your target too as much as your fishing hook's size chart matter.
When and How to Set a Fishing Hook
A common fishing rule before you begin to fish is to know how to set your hook. Oftentimes, you are advised to know there is a catch by feeling the weight of the fish and then setting the hook afterward. Also, you must learn to be patient with the fish as they may not have approached your bait for a while even though it may be a cautious fish.
Once you are sure that the fish has eaten your bait and you can feel the weight, set the hook immediately. Some anglers prefer to use circle baits if their target is a catfish such that there will be no need to set a hook. The reason is that the circle baits always find their way into a fish's mouth. Nevertheless, you may have to reel instead of setting your hook.
Some people use transparent baits to know if the fish is already biting their lure. Also, you can watch out for some outstanding signs like your bobber being totally under the water or that you could experience a tug across the line, or that the fishing line is moving while you are stable or not responsible for this movement.
Ensure the line is tight as you reel the slack in. With this, there will be more sensitivity that will allow you to know if there is a fish bite such that you can easily set the hook. Do not forget that you need the pressure to allow the barb to get into the mouth of the fish and there is no way of escape for them.
Do not forget that you must be thorough in your discernment to know if the movement you are experiencing at that moment is caused by a fish or due to the current of the moving water or even that, another fish has bumped into the bait.
You may need to be conversant with the fishes you hunt. A good angler should know the species and get better at practicing. Everyone would agree that perfection comes with practice. You should know the type of hook set that is most appropriate for your fish.
For example, if the fish is like bass or tarpon that has a hard mouth, you should use a hook set that is hard to record high effectiveness. Similarly, a soft hook set for fishes like crappie or carp that may have a soft mouth. The point is that you do not want the hard fishes to only eat your bait and run away while you do not want to cause unbearable harm to the smaller fishes.
Over time, you would get better at setting the hook and knowing what works best for your fishing site.
Fishing Hooks Buying Guide
Buying the best fishing hooks will include considering several factors. Some of the notable factors include;
Size
At this stage, you would agree that size plays a critical role before you choose your hook. You have to consider the kind of fish you want to hunt, your spot, and the type of bait you use. You can check the section of this content that focuses on the size of the hook.
Price
Price needs to be affordable because hooks are generally pocket-friendly. With just a few bucks, you can get as many as 50 pieces, 80 pieces, 100 pieces, or even more. However, if you are going for something huge, you can go for an expensive hook.
Quality of material
It is impossible not to subject your fishing hook to unfavorable conditions. it all begins with dipping it inside the water several times. They could get stuck and you may even have to clean them after use.
However, you need a type of material that can survive these conditions. For example, you have to get a hook that is resistant to corrosion. Corrosion is caused by moisture in conjunction with air. Nevertheless, there are materials that can be used to electroplate and elongate the life of the hook.
Number of pieces
The number of pieces of the fishing hook is an important determiner one should consider before buying a hook. It is good when you have more than one replacement of the hook such that you do not have to worry about making new purchases.
Effectiveness
There are different things that mark effectiveness for a fish hook. It could be that it accommodates the bait well which will help you to easily catch your fish or it has special barbs that do not allow the fish to escape easily after they are caught.
Having purchased the right hook, set it, and ready to use the hook. In the same vein, there are some tips that will go a long way as you use the hooks. It is good to set your bait such that it is still or looks alive while in the water. Some of the important tips are;
While dehooking;
You have to carefully and be fast to twist the hook as you push it towards the bend.
You can need a dehooking tool or a plier if the hook has teeth and mouth
If you are using a treble hook, you should release it one after the next
In case the fish swallows your hook, you should be careful. If you want to keep the fish, you should remove the hook. However, you should release the fish into the water after cutting off the line if you do not want to retain such a fish.
Baiting and Troubleshooting Your Fishing Hook
Putting bait on your fishhook is important. Bait, also known as the lure is to entice the fish to the hook. No fish would see a hook and want to go feed on it. However, bait is attractive and while the fish is carried away that it might have found something to eat, you can pull up the fish.
As an angler, you can have your peculiar method for baiting your hook. The commonest approach is to use the right hand to attach the bait to the hook while the left hand is holding the hook. If you set the baits well to the hook, you would have a good hunt. If you are a beginner, you can get easy-to-use bait.
Sometimes, it is possible that there are multiple bites but the fish do not get to the hook set – the implication is that the hook may be too big. There are small fishes that can bite the hook and not get caught by the hook set. At this point, you should gradually reduce the size of the hook, lure and bait till you are able to catch them.
Also, your hook could pull out while getting a fish. The fish could eat the bait and escape from the hook set. Sometimes, one could be unlucky such that the fish is able to fight aggressively and escape. On the other hand, the problem might be due to small hooks with their small hook gap.
Similarly, thin hooks have a higher chance of pulling or tearing. Basically, always set your hook properly. Your setting technique can be a major influence on how many positive results you get in turn.
There are some questions many people may have about fishing hooks. Some have been previously answered in this section while the rest are answered in this section.
What kind of fish can I catch with my fishing hook?
A large hook is suitable for a large fish while a small hook is for a small fish – this is simple and not rocket science. If you go for a small hook, you cannot even be lucky to have a big catch. Similarly, if your hook is too large, you may be far from having any catch in every session.
What type of lure should I use?
While reading this content, you would have noticed that lures are important to a successful fishing adventure. Also, you would have noticed that the different types of hook are appropriate for varying hook sizes. No matter your choice, you should opt for a hook that will perfectly fit your bait and help you with the right catch.
How can I know the size of my hook?
Most hooks already have their sizes with them. Hence, you can check the product to know the possible sizes that come in the pack.
This content is self-sufficient as a buying guide for anyone – either you're just getting started with fishing or you're already a pro. Every section is important and you should follow the recommendations for an effective fishing adventure. Enjoy your next fishing trip.